Crete's soil offers a variety of herbs & aromatic plants that grow on the dry and waterless parts of the island's mountain mass. They are carefully collected and dried under natural conditions, without any chemical treatment. Herbal substances promote the health and proper functioning of the organism.
Our company, Christoforos Daskalakis, is launching the new series 'Pellets' for Pets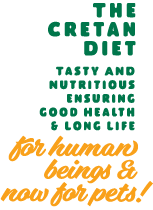 'DASKO' pellets for Rabbits, Guinea Pigs and Chinchillas
These top-quality nutritional meals for your pets, have been specially formulated to meet all the nutritional needs of your beloved Animal Pets. We respect the animal world, therefore our DASKO pellets are produced from:
High-quality raw materials
&
Natural ingredients without preservatives and sugar
The composition of the products demonstrates that the protein, fiber, fat, calcium, phosphorus and vitamin content, significantly exceed the requirements, as defined scientifically.
The unique composition of the product includes:
Natural, locally produced ingredients
Herbs: Oregano & Thyme and Carob
Our company specialist consultant Dr Stefanakis states: '' the DASKO pellets are the optimal choice for a complete & balanced diet, that will provide all the necessary ingredients for your pets and their wellbeing''.
The choices given to us by the pharmacy of nature, are not just a human privilege!
Now YOU can choose 'DASKO ' pellets for your SMALL PETS!